CityHub in Vinkovci
November 16, 2015.
Vinkovci will join a list of a dozen Croatian towns that are mobile application associated with the CityHub. It is, in fact, a system for registration of utility problems with the mobile app. The city held a presentation at which business representatives and LetMeDo BetaWare from Osijek.
City Hub is a new business information system for cities that serve as a collaborative tool between citizens and the city administration, where in a unique and transparent method may be two-way communication, explained the director of BetaWare Krunoslav Ris.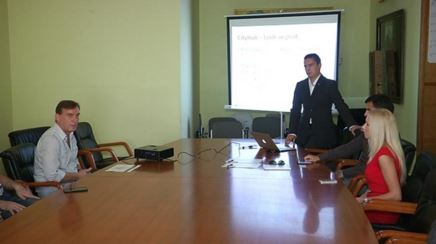 Everything works very simply. Citizen through their smartphone logs into the application and photograph communal problem. The application automatically detects geo location, and covers information in the system. The problem within the city's jurisdiction is dealt with in the shortest possible time, with feedback to citizens.
Osijek pilot project of the system for a period of 11 months shows a significant increase of activity to solve communal problems; few as two and six monthly reports before the integration of the system, up to 700 registered and 330 solved problems. It is expected that the system until mid-October could actively take hold in Vinkovci.